The North Atlantic Treaty Organization (NATO) is also known as the North Atlantic Alliance. North Atlantic Treaty Organization (NATO) is an intergovernmental military alliance between 30 member states, 28 European states, the United States, and Canada. Established in the United States after World War II at the insistence of the Truman Administration, the organization enforces the North Atlantic Treaty, which was signed on April 4, 1949.
| | |
| --- | --- |
| Abbreviation | NATO, OTAN |
| Formation | 4 April 1949 |
| Type | Military alliance |
| Headquarters | Brussels, Belgium |
| Member | 30 states |
| Official language | English & French |
| Website | www.nato.int |
History of NATO
The United States has formed the North Atlantic Treaty Organization (NATO) with the aim of protecting Europe from communist influence during the Cold War. The organization emerged in the 19th century (April 4, 1949). In addition to the United States, 12 countries, including the United Kingdom, France, the Netherlands, Italy, Portugal, Norway, Denmark, and Belgium, participated. Greece and Turkey joined in 1952. West Germany became a member in 1955. Under the terms of the agreement, NATO member states declare that if any of them attacks any member country of NATO, they will consider it an attack on the entire NATO. NATO forces have promised to work together to protect their country. The U.S. nuclear arsenal is the real courage of the NATO group.
NATO's role was criticized internationally. The organization influenced the Cold War and violated the United Nations Charter. The organization disturbed the peace of the world. NATO promoted an arms race.
Terms of NATO
The Member States must resolve their differences amicably.
Demonstrate friendly behavior towards each other.
Mutual assistance for personal and collective security.
To help and advise each other in the event of a threat to sovereignty.
Aim of NATO
It was intended to intimidate the Soviet Union (Russia).
The organization's goal is to bring the whole of Europe and the United States together under one umbrella to strengthen its military and economic position.
Its main purpose was to protect the countries of Europe and the United States from the Soviet invasion of Russia.
Map – Member states of NATO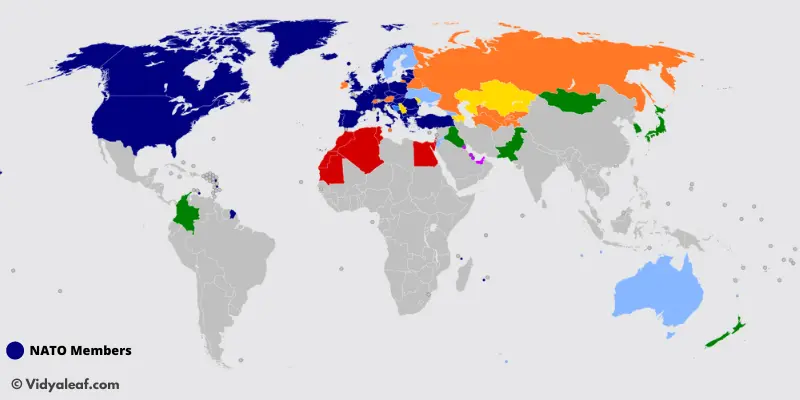 List of NATO Countries 2022
Here are the names of all 30 NATO Countries List 2022, checkout the table is given below:
| | |
| --- | --- |
| NATO Countries Name | Year of Joining |
| Belgium | 1949 |
| Canada | 1949 |
| Denmark | 1949 |
| France | 1949 |
| Iceland | 1949 |
| Italy | 1949 |
| Luxembourg | 1949 |
| Netherlands | 1949 |
| Norway | 1949 |
| Portugal | 1949 |
| United Kingdom | 1949 |
| United States | 1949 |
| Greece | 1952 |
| Turkey | 1952 |
| Germany | 1955 |
| Spain | 1982 |
| Czech Republic | 1999 |
| Hungary | 1999 |
| Poland | 1999 |
| Bulgaria | 2004 |
| Estonia | 2004 |
| Latvia | 2004 |
| Lithuania | 2004 |
| Romania | 2004 |
| Slovakia | 2004 |
| Slovenia | 2004 |
| Albania | 2009 |
| Croatia | 2009 |
| Montenegro | 2017 |
| North Macedonia | 2020 |