Odisha has always been known as the Rice Bowl of India, located in eastern India, and has been influenced by both the coastal and the inland parts of the country. This geographic position has made the state's cuisine very diverse and delicious, with many influences from other states and countries as well.
Although traditional foods are often looked down upon by some, they have played an important role in keeping culture alive, among different people in the state of Odisha, by helping people stay connected to their roots and community through food. The following are some traditional foods of Odisha that you should try if you ever visit this fascinating land.
10 Traditional Foods of Odisha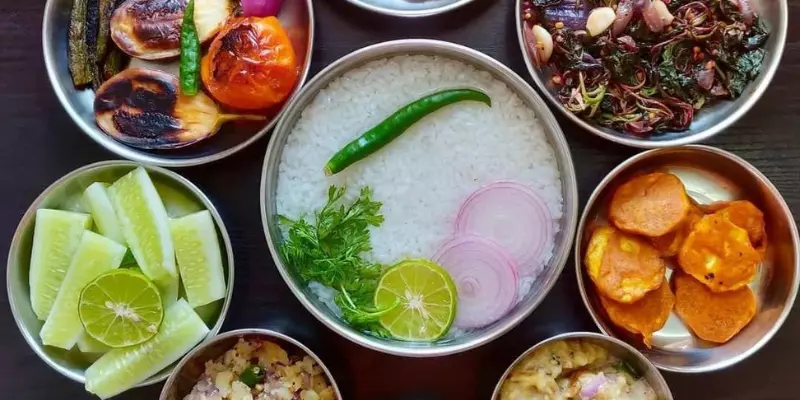 1. Dalma
The traditional food of Odisha cannot be complete without mentioning Dalma which is one of the most popular dishes in the state. It is the staple food of Odisha. It has a unique taste when prepared with roasted moong dal without any onion or garlic. A few regular spices along with a cup of veggies are added to it to give it an appetizing flavor. Common veggies include pumpkin, papaya, beans, potato, and all type of vegetable which is rich in nutrition. It is mostly eaten with rice. This lip-smacking meal will fill the appetite of a person.
2. Khichdi
It is a wholesome meal of Odisha. In Odisha, Khichdi is one of the most important dishes being offered as the main Bhog to Lord Jagannath at the Puri temple. The perfect combination of rice and dal is cooked together in ghee giving a distinctive and delicious flavor to it. This comforting meal not just offers great taste but is also highly nutritious. This dish is highly spiced, often served with curd and Papad.
3. Pakhala Bhata
Pakhala Bhata is an Odia Cuisine consisting of cooked rice lightly fermented in water. It is the very basic daily lunch in almost every household during summer. This dish is prepared by soaking cooked rice in water and sour curd. It is left overnight and is often served with potatoes, fried fish, Papad, and Badi Choora. 20th March is celebrated as Pakhala Dibasa.
4. Chhena Poda
Odisha's very well-known cheesecake. It is the type of sweet dish for which Odisha is famous. It is also known as Lord Jagannath's favorite sweet and is offered to him at Puri temple.
5. Santula
It is a classic Odia dish. Santula is a fried or boiled vegetable curry that gulps through your tongue with every spoon. It is a healthy dish with a blend of raw papaya, potato, tomato, and brinjal. It is most commonly eaten for a healthy diet as the recipe is low on spices and high on vegetables.
6. Rasogolla
The Rasogolla from Odisha is a popular sweet dish. It has been a topic considering its battle beginning with Bengal. With its mouth-melting appearance and divine savor, Rasogolla wins the heart of every person in every part of the world. The white goodness soaked in sugar syrup makes it one of the best desserts. The elegant softness of Chhena and the perfect balance of sweetness make it a wonderful indulgence. The Rasogolla and Khira Mohana are served as Bhoga in the Jagannath temple in Puri.
7. Gajja
Gajja is a typical, traditional sweet dish of Odisha that has different variations. For example – Chhena Gajja, Khata Gajja, Khira Gajja, and some others differ in their style of preparation (boiled dry or fried sugar syrup). The name of the variant is based on the core ingredient of the respective recipes. The most popular form is the little square-shaped pieces of Chhena Gajja that are fried and soaked in sugar syrup for about 1 hour to absorb the sweetness.
8. Chaula Bara
Chaula Bara are extremely mouth-watering crispy balls that are made with primarily black gram and rice. This dish is light, fluffy, and tasty. For preparation, four parts of rice and one part of a black gram are soaked overnight ( minimum 8 hours). Then it is blended into a medium coarse paste. Ingredients like cumin seeds, coriander leaves, a pinch of baking soda, salt, and pepper are added to this paste. After mixing it, it is ready to fry. Chaula Bara is best served with a tangy chutney of your choice.
9. Khaja
Khaja is a crispy, cracking, and cherishing sweet dish. It's a blast of savor and texture. Khaja is prepared with ingredients such as refined flour, butter, sugar, water, cardamom, and rose water. The dough is blended using flours and ghee, to prepare a thin hotcake. These hotcakes are then layered one above the other with the help of ghee and dry flour. Before rolling them and cutting them into pieces, around 6 layers are formed. A part of a small portion of flattening from the sides, and they get into deep frying until golden. In the end, it is coated with flavored sugar syrup and the layered crunchy goodness is ready to enjoy.
10. Chhena Jhilli
It is another sweet dish from Odisha's cuisine. Its key ingredient is curd and cheese that is moist and crumbled. The other ingredients of Chhena Jhilli are sugar, sugar syrup, ghee, wheat flour, cardamom powder, curd, and a tad bit of salt. A soft dough-like mixture is prepared and small-sized balls are made. These balls are then deep fried in oil and then dipped and coated in sugar syrup. Chhena Jhilli is soft, luscious, and delicious.
Why Traditional Food of Odisha is so Unique and Delicious
Traditional foods from Odisha are unique and delicious for a variety of reasons. First, the climate in Odisha is ideal for growing a variety of crops and spices. Second, the people of Odisha have a long history of culinary excellence. Third, traditional foods from Odisha are often made with fresh, local ingredients. Fourth, the cuisine of Odisha is highly diversified, with something to please every palate.